myWall was the perfect solution for 2 large creative brainstorming work areas within a large corporation in Rhode Island.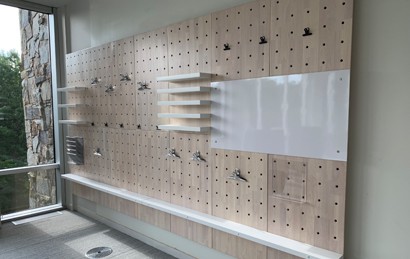 The company needed a space that could be used for organic, creative thinking, by using easily moved clips, slotted shelves, whiteboards, and collateral holders. Each unit consists of 7 myWall panels with long lower locking shelves that meet Osha standards within a high traffic area. The myWall system also works well within the general open office floor plan of the new facility.
Contact us for more information about myWall and how it can complement and improve the interior of your existing office, education, retail, or exhibit space.