myWall is the world's premium pegwall system that provides the ability to customize any interior wall to fit your business. The myWall pegwall panels are easily hung in minutes, and have unmatched strength. With over 50 accessories, the system can be customized for office, retail or exhibit installations.
Quotes / Samples / Free Design Layouts

High quality Rubberwood
Patented pegboard wall system
Easily customizable
Easy to assemble, minimum tools
Load bearing system for heavy items
Rear wire management
Renewable resources
Helpful installation videos and guides
The myWall pegwall system provides offices with an efficient, customizable and attractive design solution perfect for any office environment. Rooted in design cues derived from both Scandinavian and Japanese design, the high-quality myWall system is designed to provide owners and managers with the ability to make their office space both functional and design conscious. The adaptability of the myWall system makes it the perfect solution to maximize the efficiency of any workplace including co-working spaces that are constantly looking to customize to varying requirements. With over 50 accessories, this pegwall system can fit any businesses needs.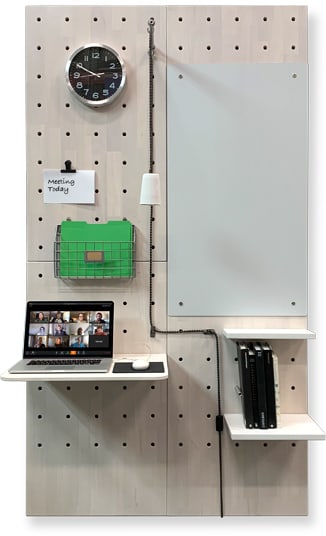 Desks
Magnetic Whiteboards
Shelves
Light mounts
Monitor mounts
Baskets and more…
The myWall pegwall system is the perfect mobile infrastructure solution for companies looking to promote their brands with a unique, efficient and modern approach to common displays. The high-quality myWall system was developed to provide vendors with an efficient, design conscious modular display system that can be customized to fit evolving display needs. The system is extremely durable maintaining its premium look and functionality through years of use and its load bearing capability is perfect for displays no matter the weight requirements. The myWall system provides a customizable solution unique to the retail spaces offering companies a freedom to display their brand and products in a way that will make them stand out as extraordinary in a sea of ordinary.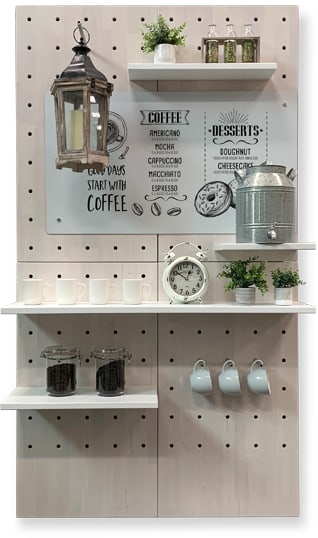 Shelves
Locking Pins
Magnetic Whiteboards
Light mounts
Monitor mounts
Baskets Graphic mounts
and more…
The myWall pegwall system changes the game when it comes to versatile, easy-to-assemble infrastructure for exhibits, either permanent, temporary, and/or mobile. A major advantage of myWall over more dated display structures, myWall can be set up any way you want and it's load bearing (a key point: the price of load-bearing booths can be prohibitively costly). While the public-facing walls are perfect for product display, the back side of the wall can be used for storage, as a work space, and even as a place to hang your coat!
The flexibility resulting from this design means that exhibitors can modify their on-site mission from event to event, even throughout the course of the day. Ready to switch from selling a product to providing a meeting space? Easy to do. Custom add-ons, including our line of learning tools, can also make myWall the perfect choice.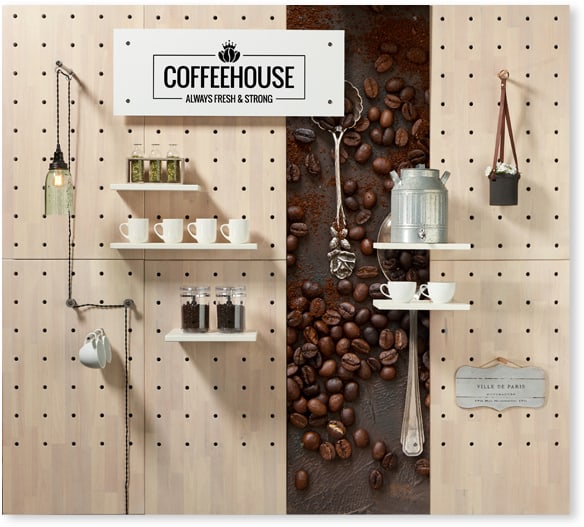 Free-standing frames
Graphic mounts
Rear storage
Monitor mounts
Locking Pins
Light mounts
Shelves
Baskets
and more…
"myWall was has been a resounding success as a retail sales solution for our gym space."
"I have had great success using the myWall system in both my office and in our video studio. Installation was easy and the added flexibility is great."
"myWall has provided us with a seamless solution to adapt and customize the studio space to support multiple podcast shows."
"The myWall panels have been the perfect solution for my two sons adjusting to virtual Elementary and Middle School classes."