Design a More Productive Office Space with myWall®
myWall® is a multi-use pegboard system that adds style and function to augment any office or co-working space
CUSTOMIZE YOUR WORKSPACE DESIGN WITH MYWALL®
The myWall® premium pegboard system provides offices with a fully customizable and attractive design solution perfect for any work environment. With over 50+ accessories like whiteboards, lighting, and desks, it's never been easier to add functionality to your workspace while elevating its appearance.
The easy-to-install paneling can be hung on the wall to store office supplies, display televisions and monitors, and can even serve as an official workspace by adding a desk and some lighting. The freestanding, dual sided version of myWall® can help lessen distractions in a shared office environment and makes a great alternative to traditional office cubicles.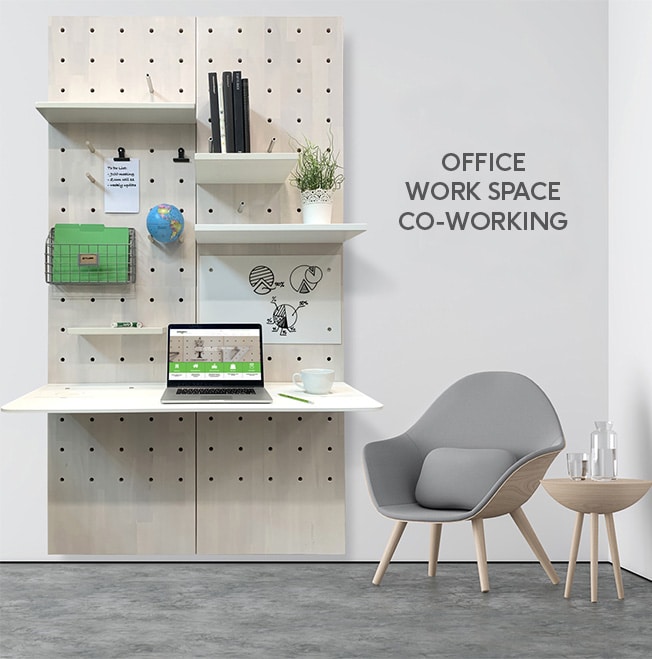 Add myWall® to Your Office Space
The adaptability of the myWall® pegboard system makes it the perfect solution to maximize the efficiency and functionality of any workplace.
If your office has lots of windows and limited wall space, a freestanding pegboard system can create individual work stations for your employees while minimizing distracting noises from co-workers.
There are over 50+ accessories you can add to your workspace, plus endless creative solutions with our handy flush mount pins. Choose from desks and lighting to computer monitor storage. With load bearing panels made of sustainably harvested, high quality materials there isn't a TV or monitor that myWall® can't support.
Each panel can hold up to 4,000 pounds and can be customized endlessly to fit any business's needs.
Add myWall® to Your Co-working Space
With multiple people sharing one office space, flexibility is key. Co-working spaces need to accommodate a variety of work preferences all at once, and with myWall®, that's never been easier.
When myWall® is a part of your co-working environment, you can quickly change an entire work station's setup based on who is using it and what task they're doing.
Whether your pegboard system is freestanding or installed on the wall, it can easily be customized in a matter of minutes with an endless variety of accessories. Your myWall® can be updated with shelving, whiteboards, desks, pendant lights, hidden power cord storage, and anything else you need to focus on your work at hand.
myWall® is easy to install and even easier to adjust for your ever-changing co-working needs.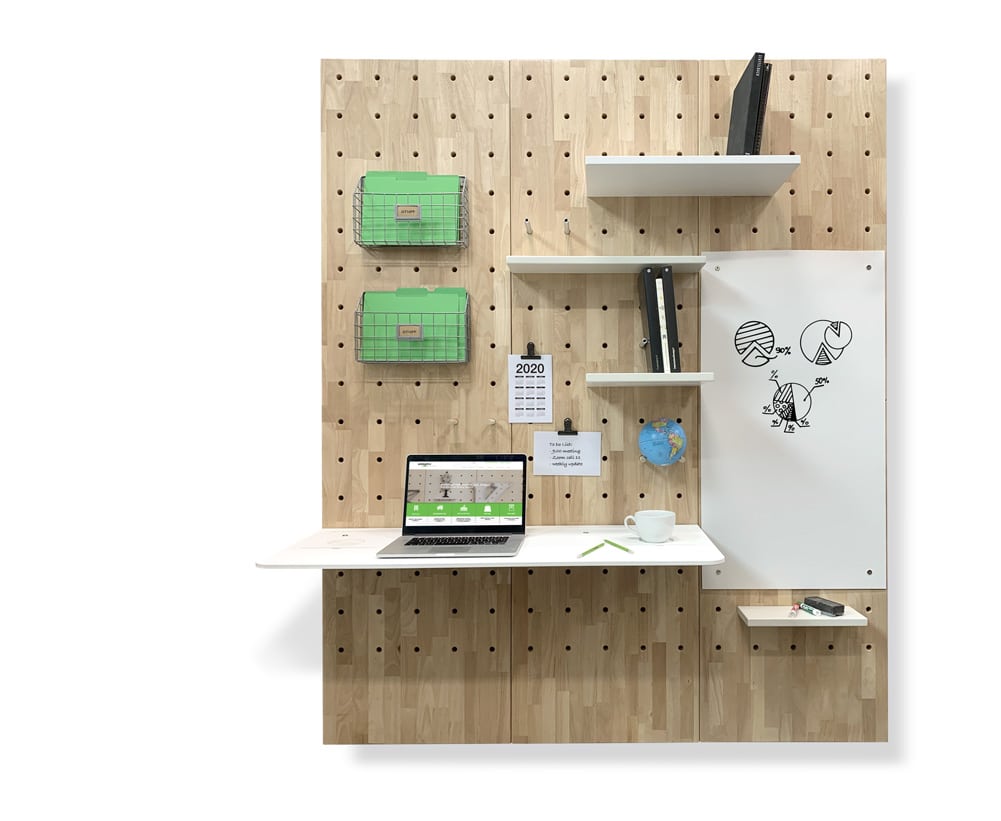 Ready to add myWall® to your office or co-working design?
Contact us so we can give you a quote based on your design layout and custom accessories. We're happy to offer you a complimentary demo to show you how the system operates and to send you samples.

Patented pegboard wall system
Made of high quality Malaysian Oak
Eco friendly, renewable resources
Load bearing for heavy items
Rear cable management
Simple to assemble with minimal tools
Helpful installation videos and guides
Easily customizable with over 50+ accessories