Design a Unique Learning Environment with myWall®
myWall® is a multi-use pegboard system that creates an elevated educational experience in schools for all ages
Design an Interactive School Classroom with MYWALL®
Most children spend more time at school than anywhere else, and a well designed classroom can make the difference between a good education and a great one. The better designed the school campus, the better students do academically. With myWall®, you can build an inspiring learning environment that encourages creativity and supports the needs of all students.
myWall® is a multi-use premium pegboard system that is fully customizable to maximize the use of your learning space. The easy-to-install wall paneling offers over 50+ add-on accessories and curated learning bundles, making it a strong design solution for any school. Each panel can hold up to 4,000 pounds which means your final classroom design will be safe, durable, and built to last through years of wear and tear.
With myWall®, your only design limitation is your imagination. Your pegboard system will grow and evolve as students' needs change to ensure their classroom environment continues to have a positive impact on their learning.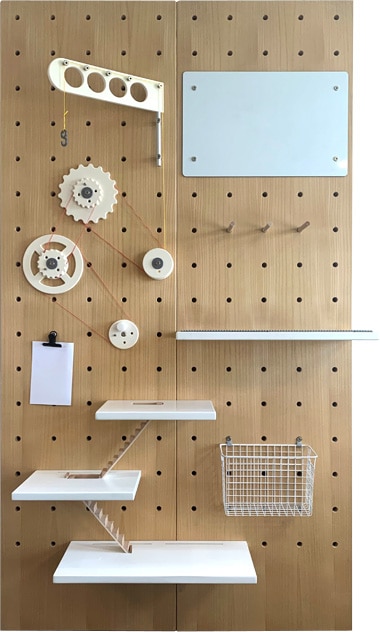 Add myWall® to Your school design
New school building designs come in all shapes and sizes, but the one thing they each have in common is the need for functionality.
myWall® can be adapted in unlimited ways to maximize the efficiency of any classroom. With accessories that offer everything from storage solutions, to more interactive lesson plans, and creative hands-on learning, you'll never run out of ways to use your pegboard wall system.
Transform any wall into a doll house, basketball hoop, foam ball catapult, or ring toss game for some rainy day fun. Enhance dexterity and coordination with our rock climbing walls. Encourage imaginative play with our lego shelves and variety of STEM toys.
Each learning bundle is thoughtfully designed to offer an interactive learning experience that can evolve as your design needs change for years to come.
Create an Environment for Better Learning
With load bearing panels made of high quality, sustainable materials, there isn't much that myWall® can't support. From television monitors, to heavy books and learning materials, and chalkboards or whiteboards- your myWall® will maintain a modern look while requiring no maintenance.
With over 50+ accessories available, the myWall® premium pegboard system can quickly transform based on your classroom's needs. Add shelving, pendant lights, or clips to display students' artwork. Hide cables and cords effortlessly when mounting a TV. Any educational design is easier with myWall® in your learning environment.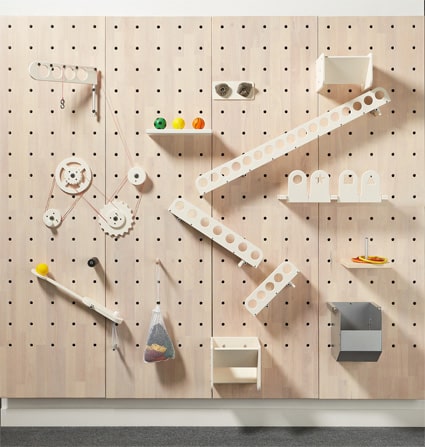 Ready to add myWall® to your classroom design?
Contact us so we can give you a quote based on your design layout and custom accessories. We're happy to offer you a complimentary demo to show you how the system operates and to send you samples.

Patented pegboard wall system
Made of high quality Malaysian Oak
Eco friendly, renewable resources
Load bearing for heavy items
Rear cable management
Simple to assemble with minimal tools
Helpful installation videos and guides
Easily customizable with over 50+ accessories