Design More Effective Trade Show Displays with myWall®
myWall® is a multi-use pegboard system that is compatible with your existing framing system to enhance style and function.

Elevate your trade show booth designs with myWall®
myWall® is the easiest way to upgrade your exhibit booths at trade shows, expos, and events. The flexible, easy-to-install paneling fits seamlessly with your existing display structures giving exhibitors a new way to maximize limited floor space.
With custom add-ons like shelving, lightin, and load-bearing mounts to display heavy objects, you don't have to choose between your tradeshow booth looking good or being functional. With myWall®, you can have both!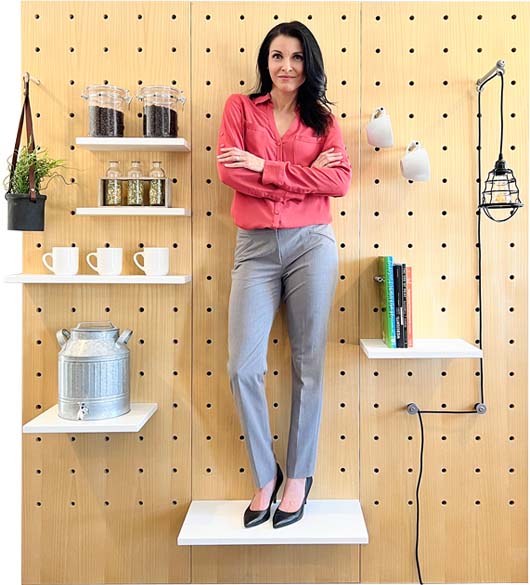 Meet Your New Favorite Design Must-Have for Trade Shows and Events
The myWall® Multifunctional
Pegboard Paneling System:
Seamlessly fits with your existing inventory of metal framing systems
Is load bearing and easy to assemble
Has unlimited customization possibilities
Features modern, contemporary design
Is made from durable, high quality materials that will stand the test of time
Exhibit Booths that Turn Heads and Engage your Customer Start with myWall®
myWall® Adds Function and Flexibility To Your Trade Show Exhibits While You Maintain Full Creative Control Over the Design, Layout, and Features.
myWall® was creatd specifically for enterprise partners and designers at exhibit houses to enhance the functionality of your traditional exhibit booth structures. Because it works with most of the popular metal framing display systems, adding myWall® to your exhibit catalog is an affordable way to upgrade the design options and functionality you offer your clients while making the most of what you already own. Plus, myWall® panels are durable and will sustain the wear and tear of being used over and over for years to come.
myWall® is available in half panel or full panel sizes compatible with your existing BeMatrix, Aluvision, Nexus (Agam), or Skyline framing system. Unlike most trade show skins that are simply printed graphics, a myWall® "skin" is more like a super functional building block that can be accessorized any way you want and configured to your needs.
myWall® is a functional, multi-use frame wall treatment that adds unlimited flexibility to your trade show designs.
The possibilities are endless, but include:
Display products
Stocking merchandise
Mounting TVs and monitors (and easily hiding all those ugly cords!)
Storing swag or handouts
Adding lighting
Hanging graphic mounts for signage
Creating mock spaces like garages, offices, or kitchens
Not only does myWall® create high-impact, show stopping, attention grabbing exhibits for the public to engage with; it's designed to be a functional solution for the exhibitor as well. With flexible rear storage, myWall® can be used as a workspace, break room, or a place to hold any additional products or supplies.
Is myWall® the best trade show booth solution for you?
Let's build something together.

Patented pegboard wall system
Made of high quality Malaysian Oak
Eco friendly, renewable resources
Load bearing for heavy items
Rear cable management
Simple to assemble with minimal tools
Helpful installation videos and guides
Easily customizable with over 50+ accessories
Installing the myWall system isn't complicated.
We remove the confusion by guiding you from purchase to installation.
"myWall was has been a resounding success as a retail sales solution for our gym space."
"I have had great success using the myWall system in both my office and in our video studio. Installation was easy and the added flexibility is great."
"myWall has provided us with a seamless solution to adapt and customize the studio space to support multiple podcast shows."
"The myWall panels have been the perfect solution for my two sons adjusting to virtual Elementary and Middle School classes."