Home Office, Playroom, Home Gym, Garage
myWall® is the world's premium pegboard wall system for residential applications, offering the ability to customize any interior wall to fit your lifestyle. Our myWall® pegboard wall panels are easily hung in minutes and have unmatched strength. With over 50 accessories, the system can be customized for many uses and can adapt to your needs over time.
The myWall® WORK bundles are the perfect fit for anyone working from home or in a shared office environment.The system provides a fully customizable, efficient work area with limited space requirements. With multiple myWall® accessories, the myWall® system can be outfitted to serve almost any job category or function.
The importance of a dedicated space, purpose built to your liking, is critical to productivity in the "new normal" of remote work options and shared work environments. Whether you're always on-the-go or need a quiet space to focus, the myWall® bundle allows your space to serve your complex and changing needs.
The myWall LEARN system is the perfect fit for any child or student transitioning to a daily "learn from home" schedule. The system is customizable and adaptable to grow with the child from toddler to teen and beyond.
The myWall PLAY bundles are the perfect solution for kindling creative play and active learning in an easily accessible, space maximizing kit. The myWall® system allows for quick and easy changes focused on daily play or curriculum. Multiple accessories are available offering years of creative fun and development.
Every parent's investment in their child's development starts at birth and never ends. The most valuable tools are those that can provide engagement and spark imagination as needs and interests mature. The myWall® system is an investment that appreciates as the system adapts to foster your child's ingenuity and creative thinking over time.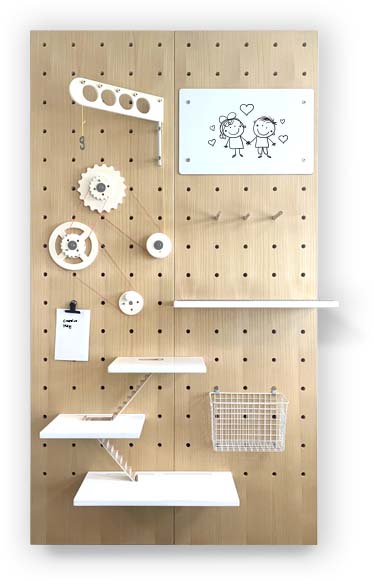 The myWall® GYM system is the perfect storage and exercise accessory for any workout area. Holding over 4,000 pounds per panel, the system is equipped for storing anything from free weights and dumbbells to jump ropes.
Put myWall® to work setting up you're at-home workout haven and accessorize your system with over [##] accessories useful for home gym environments. Don't shrug off that quick workout because you don't have a proper space to get your heart pumping – myWall® doesn't compromise, do you?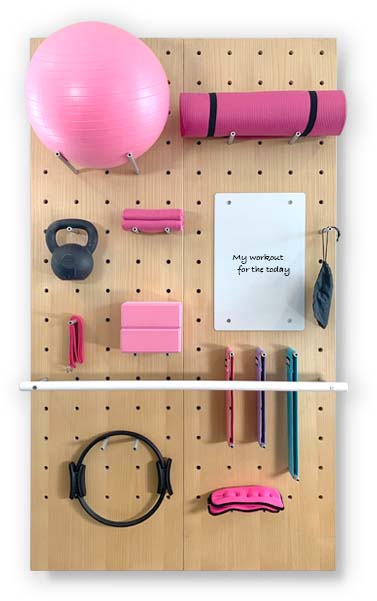 The myWall® system is the perfect organization and storage addition to any premium garage layout. Each shelf holds over 200 pounds and we offer over 50 additional accessories to hold anything from bikes to skies.
Every homeowner deserves an aesthetic and functional system to help showcase their passions. Whether you're a gear head or a ski bum, myWall® STORE bundles will help you organize and showcase your hobbies without sacrificing the functionality you need to spend those countless hours on your passion!

High quality Rubberwood
Patented pegboard wall system
Easily customizable
Easy to assemble, minimum tools
Load bearing system for heavy items
Rear wire management
Renewable resources
Helpful installation videos and guides
Installing the myWall system isn't complicated.
We remove the confusion by guiding you from purchase to installation.
"myWall was has been a resounding success as a retail sales solution for our gym space."
"I have had great success using the myWall system in both my office and in our video studio. Installation was easy and the added flexibility is great."
"myWall has provided us with a seamless solution to adapt and customize the studio space to support multiple podcast shows."
"The myWall panels have been the perfect solution for my two sons adjusting to virtual Elementary and Middle School classes."