Residential Design Solutions
Home Office, Playroom, Home Gym, Garage
Revamp any residential space with a myWall® premium pegboard wall system. The possibilities are endless! Our easy-to-install wall panels can be hung in minutes and offer unlimited customization for any residential space or style. Whether you're remodeling a home office, renovating a fitness room, organizing a garage, or designing an interactive space for kids, myWall® is up for the challenge. 
Made from high quality Malaysian Oak, myWall® is load bearing and can support up to 4,000 pounds. The simplicity of the design lends itself to unlimited uses and its durability means this is an interior design solution that can evolve over time. With over 50+ accessories available, myWall® owners can change the look and feel of their residential space whenever the mood strikes (without having to drill any additional holes in the walls!).
Working from a dedicated home office space calls for a clutter-free, inspiring space in which you can be productive. With myWall®, getting more focused work done at home has never been easier or more enjoyable.
Adding a myWall® pegboard system to your home office elevates the appearance of any work environment while doing double duty as a practical storage and organizing solution. We offer several curated, ready-to-buy work bundles that include shelves, magnetic white boards, folder files, display clips, and even desks. Plus there are over 50+ add-on accessories to suit your needs.
The flexibility of myWall® gives home office an endless supply of options. The pegs, shelving, and accessories can be configured in so many functional ways to achieve the look you want. Keep regularly used items on an easy-to-reach shelf, hide those ugly cords and wires with our rear cord management, and design a professional background for video calls with myWall®. You can update the look and functionality any time you want!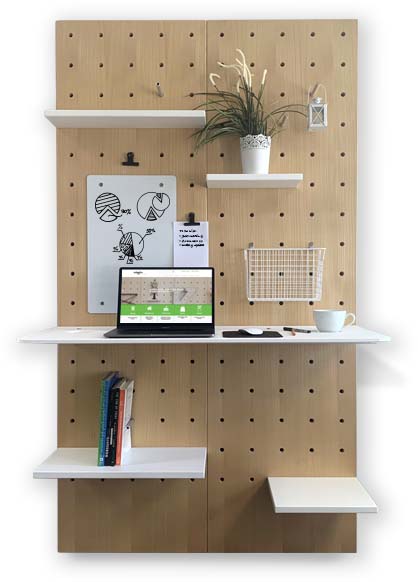 The myWall LEARN system is the perfect fit for any child or student transitioning to a daily "learn from home" schedule. The system is customizable and adaptable to grow with the child from toddler to teen and beyond.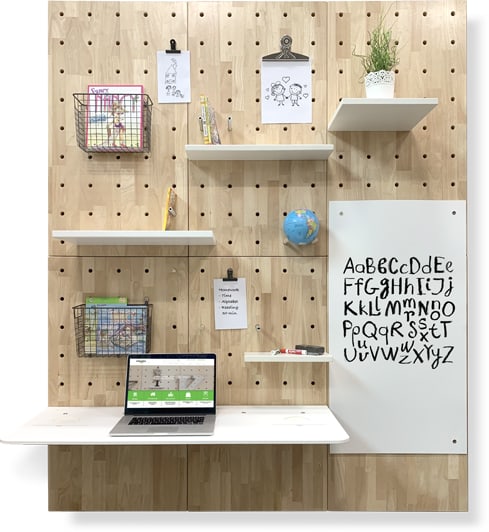 myWall® creates an engaging playroom environment for kids to play and learn. Designed to spark imagination, encourage ingenuity, and foster creative thinking; adding myWall® to a child's bedroom or playroom is an investment that will evolve with them as they grow and mature.
The potential ways to use a myWall® premium pegboard system in a child's playroom are unlimited. With over 50+ add-on accessories available, our pegboard wall system can be customized to maximize both space and creativity. From adding basketball hoops, to Lego tables, doll house shelves, and rock climbing holds; myWall encourages years of safe, creative fun and development. 
Our collection of playroom bundles include interactive accessories like a pulley and crane set, magnetic whiteboard, and baskets to store odds and ends. They're a fast way to get the fun started and can easily be updated and changed over time.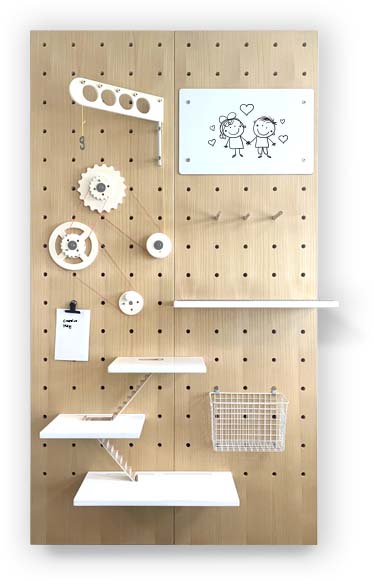 Having a proper home gym storage space to get your heart pumping is easy with myWall®. Our premium pegboard panels are simple to install, are sturdy enough to hold workout equipment, and can be styled to fit anyone's needs. Each panel can support up to 4,000 pounds—which means myWall® can easily store and display dumbbells, jump ropes, yoga blocks, and workout mats.
There's nothing like having a well-equipped home gym for motivation, but all of the clutter that comes with a fully stocked workout room leaves some people closing the door to the mess and forgetting all about their fitness goals. Since we've never heard of a personal trainer who recommends an out of sight, out of mind approach to getting in shape, we created a home gym storage solution to proudly display your workout equipment instead of hiding it.
With myWall®, it's fun to get the equipment up off the floor and get moving. Our assortment of gym bundles come with accessories like a whiteboard to write the workout of the day, a fitness barre to cool down after a sweaty session, and an assortment of shelves and pins to hold everything from free weights to a TV for watching fitness videos. Whether you choose a bundle or customize your own, you'll love the organization and aesthetic appeal myWall® brings to a home gym storage.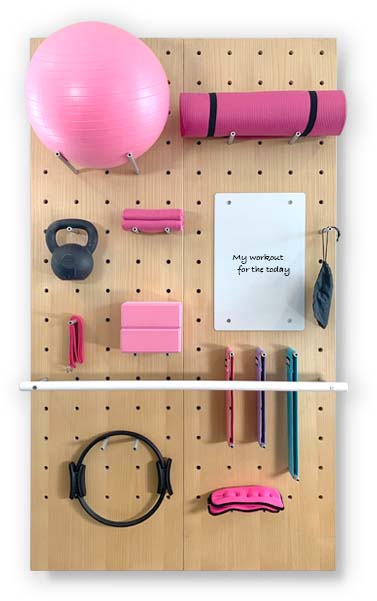 Organize your garage in style with myWall®. Adding our premium pegboard wall system to a garage will make it look instantly cleaner and larger. Because our individual shelves can support over 200 pounds and each myWall® panel can hold up to 4,000 pounds, the garage of your dreams is well within reach.
The craftsmanship of the myWall® premium pegboard system makes it the perfect garage storage solution for heavier gear like bikes, skis, and sports equipment. Our collection of garage storage bundles come with a mix of shelves and pins that make a great foundation for any design project. Plus there are more than 50+ accessories that can be added and updated over time.
For most people, the garage is the first thing you see as you arrive home and the last impression as you leave. There's no need to tolerate a messy, chaotic, stress-inducing space that's overflowing with seasonal decor, tools, and lawn equipment any longer. myWall® checks all the boxes to get cleaning the garage off your to-do list once and for all.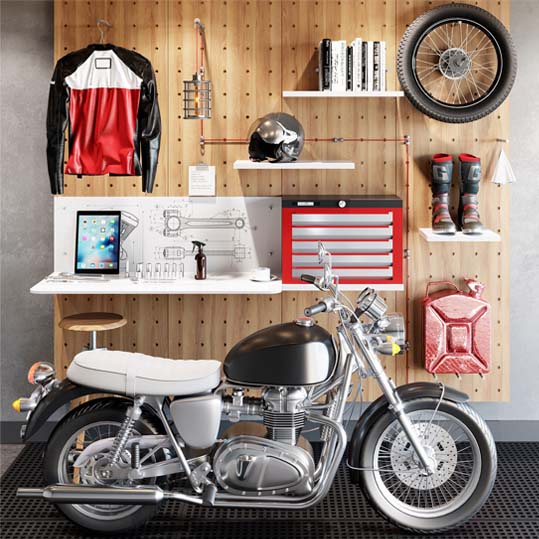 Patented pegboard wall system
Made of high quality Malaysian Oak
Eco friendly, renewable resources
Load bearing for heavy items
Rear cable management
Simple to assemble with minimal tools
Helpful installation videos and guides
Easily customizable with over 50+ accessories
myWall® is the world's premium pegboard wall system that stands the test of time.
Our myWall® pegboard wall panels are easily hung in minutes, can be customized for any space and style, and can hold up to 4,000 pounds. With over 50 accessories, myWall® can be updated as your needs change to evolve with you over time.
Installing the myWall system isn't complicated.
We remove the confusion by guiding you from purchase to installation.
"myWall was has been a resounding success as a retail sales solution for our gym space."
"I have had great success using the myWall system in both my office and in our video studio. Installation was easy and the added flexibility is great."
"myWall has provided us with a seamless solution to adapt and customize the studio space to support multiple podcast shows."
"The myWall panels have been the perfect solution for my two sons adjusting to virtual Elementary and Middle School classes."