STEM Education and Learning
AdaptivDC is a full-service commercial interior design firm that provides clients with unique solutions for retail, education, exhibit, and office interiors. Our line of products and solutions bring unmatched quality, flexibility, and creativity to all our clients.
AdaptivDC is also the proud provider of the (Thinkterior) myWall Inline Display System, a breakthrough in exhibit hardware, and provides design, fabrication, and installation to business clients across the United States.
STEM Learning Using the myWall Display System
Children of all ages learn through playtime. The increasing focus on STEM (science, technology, engineering, and math) relevant learning is aimed at helping to develop a strong foundation for young minds in an enjoyable and entertaining way. Providing creative and functional options for children during playtime will help develop eye-hand coordination, introduce creative problem solving and reinforce critical thinking in ways they will enjoy.
The interactive toys developed for myWall provide children of all ages and abilities with options to develop their skills and understanding of simple machines, create their own functional inventions, test their theories and have fun at the same time. The interactive approach to learning never has to end as the elements can be personalized for each child and curriculum.
Whether focused on creating a new piece of art or advanced conveyor system, the myWall elements will support the continued entertainment and education of the next generation.
STEM Learning Using the myWall Display System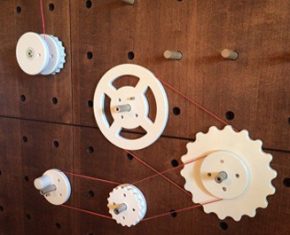 Pulleys and Crane
Create small machines with these mounted wheels and crane. The system mimics the concept of pulley's and can be used with either rubber bands or string. Sets include 2 large wheels, 4 small wheels, 1 crane spool, 1 crane, 6 pins, 10 rubber bands.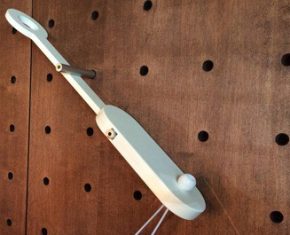 Catapult
The catapult can be used for either learning experiments or creative play. The system works with either an elastic bungee power or counterweight power (beanbags from ring toss game). The item can also be used with the shelves used in the ring toss game (upside down) and used to stack blocks (mimics Angry Birds style game). The product ships with 1 catapult, 3 pins, 1 elastic band, 2 balls.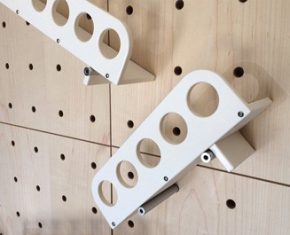 Ball Drop
The Ball Drop system uses a simple tennis ball or similar sized ball to roll along tracks positioned along the myWall surface. The unit can also be paired with the catapult that can shoot the balls into the top basket starting the ball drop. The full system ships with 1 top bin, 1 bottom bin, 1 long track, 1 medium track, 2 small tracks, 3 balls.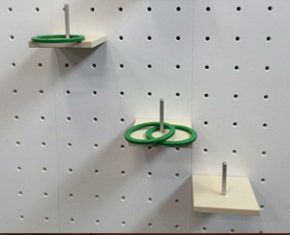 Ring Toss
The Ring Toss game builds eye-hand coordination. The product ships with 4 ring toss shelves and 6 rings.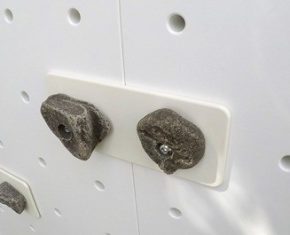 Rock Climbing
Rock climbing holds can be easily relocated on myWall at any time. Product ships with 10 sets of 2 holds.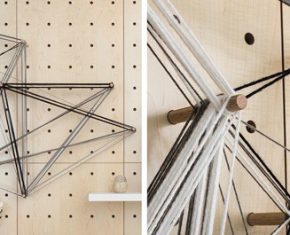 Yarn Art
This is a DIY product that ships with 12 wood pegs for being creative.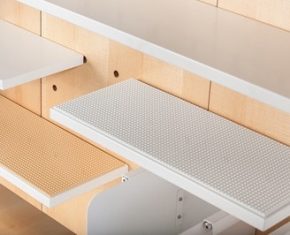 Lego Shelves
Standard myWall shelves used in combination with mounted Lego pattern sheets.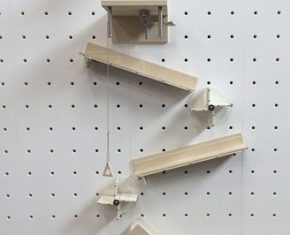 Water Play
Ask us about this custom item used for outdoor play.
Order any of the myWall systems now without any need for design consultation, fabrication, or installation fees.